Creating and Sharing Public Documents
1. Create a Public Document
Select "Public Documents" from the icon on your administrative dashboard.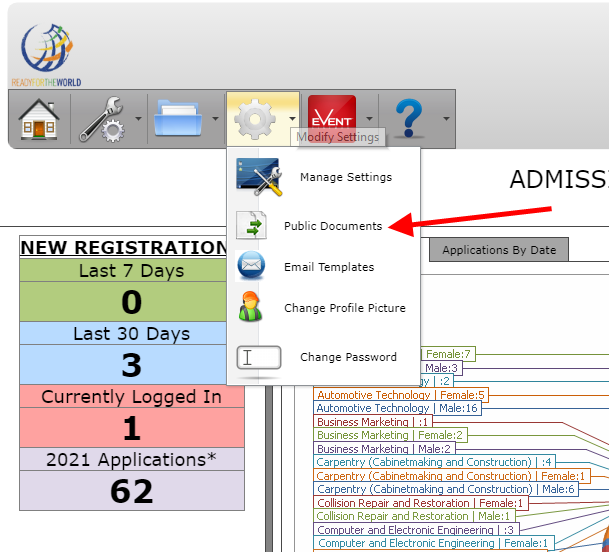 The following screen will appear:
​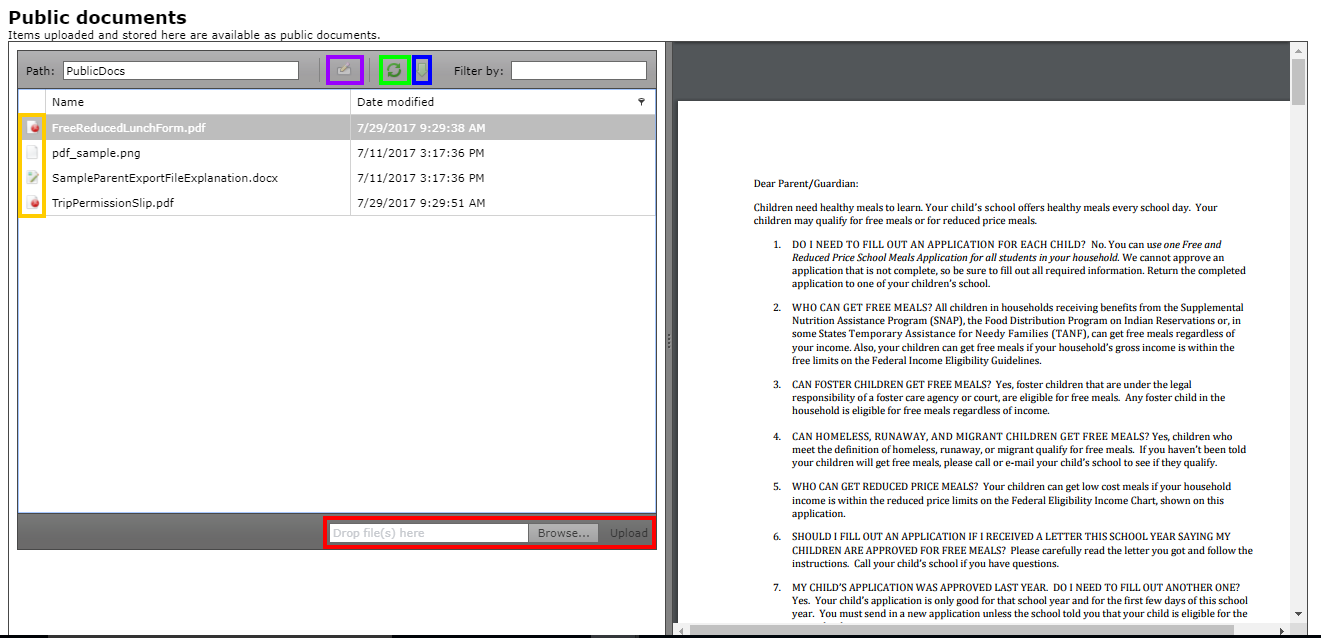 You can complete a variety of tasks from the public documents dashboard. To begin, upload your document by scrolling down to the bottom, left-hand corner of the page. Above, the upload bar is indicated in red. Either drag and drop your document into the indicated field, or locate it using the "browse" button and clicking "upload."

From this dashboard, you may also:
Rename: Rename your document.
Refresh: Refresh the page and see newly uploaded documents.
Download: Download selected documents to your computer.
View Type of Document: Icons indicate file type.
Note: PDF's are recommended when uploading public documents. Only PDF files will display a preview on the right-hand side of the page when clicked.
2. Share Public Documents
E-Mail Templates
In order to ensure that your e-mail is not classified as spam, it is often more effective to link to documents in the body of an e-mail. This guide will walk you through the process of creating an e-mail template and generating links to documents.
NOTE: It is often most effective to upload and link to PDF documents, as students and families can fill them out and e-mail back the completed form.

To get started, select "E-Mail Templates" from the drop-down menu.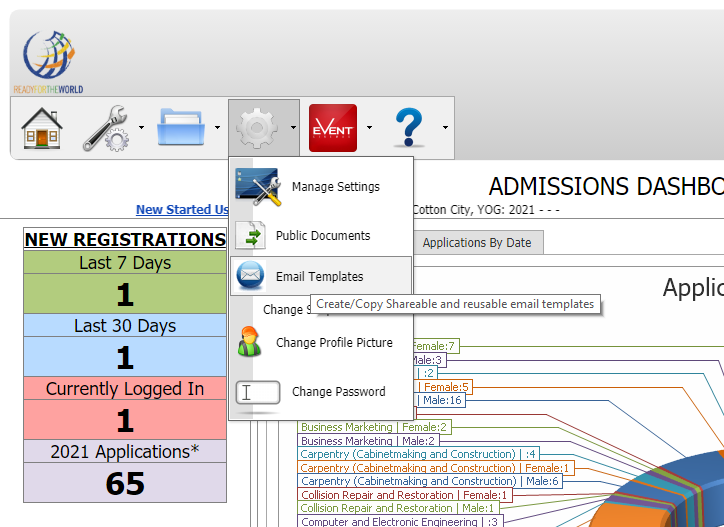 The following screen will appear:

Select "New" from the toolbar.

The following screen will appear: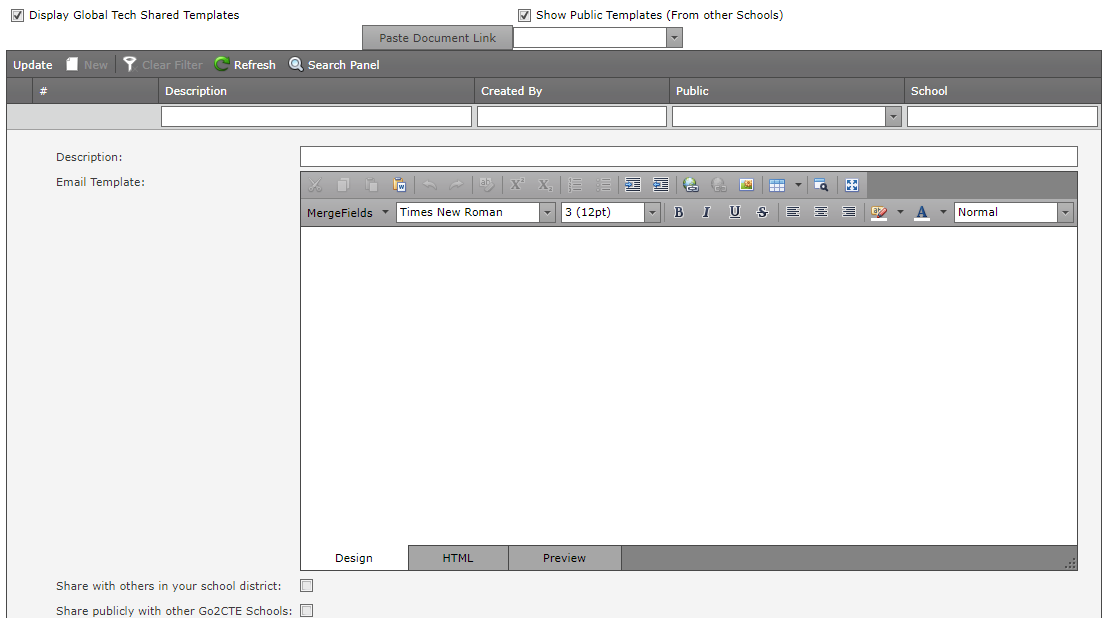 Fill in the fields provided.

NOTE: Would you like to share your e-mail template with other Go2CTE schools? Select "checked" under the "Public" drop-down menu. To mark a template as available to your school only, selected "unchecked."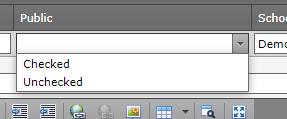 Similarly, if you would like to view templates created by other Go2CTE schools, check off "Show Public Templates (From other Schools)."

Other Useful Tools
Add details specific to your students by clicking on "Merge Fields." You can insert useful data into the body of your e-mail, including student name, year of graduation, address, etc.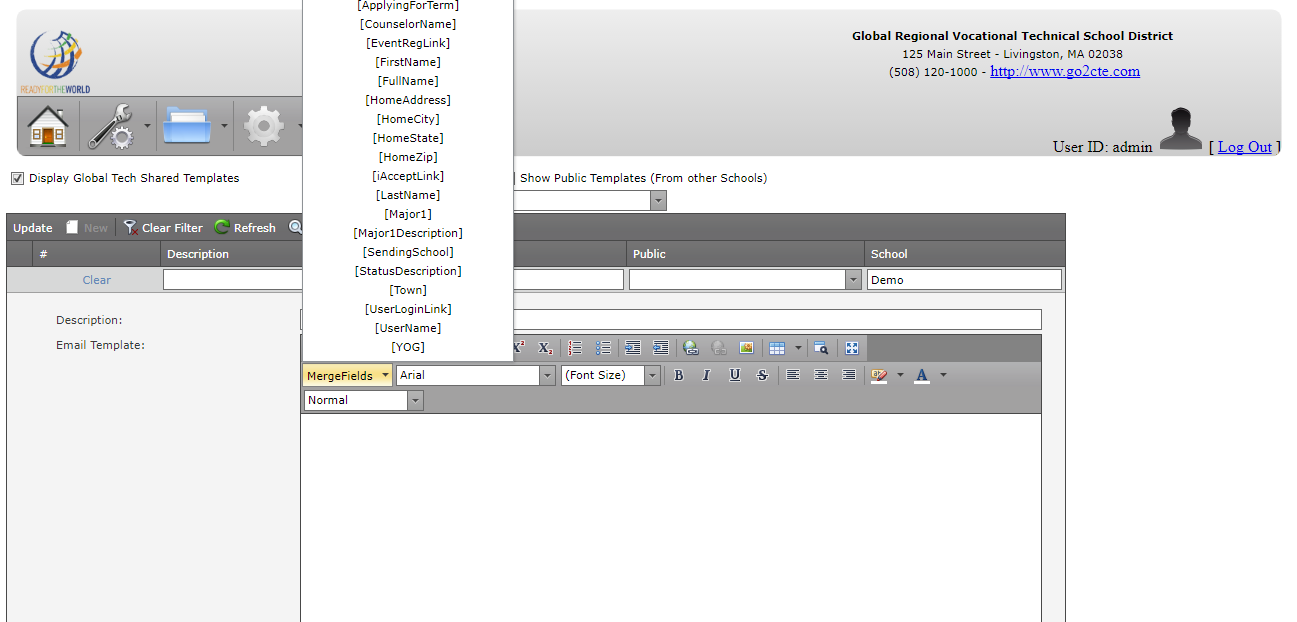 Linking to Public Documents
To generate a link to your public document, select your document from the drop-down menu indicated below. Then, select "Paste Document Link." A link to your document will appear in the body of your email.